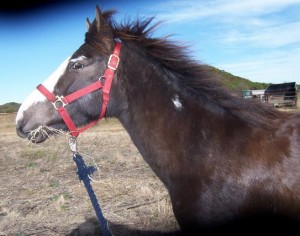 Jennifer Maddox & Darlin' Sportin' Jenny
First time I saw Jenny, Vickie Ives from Karma Farms was pointing out two horses that she would like me to help her train. The way Jenny looked at me was as if to say, "What are you looking at, punk?!" I smiled and said I wanted to work that one.
I bought Darlin' Sportin' Jenny myself when I was 12. My dad made the mistake of calling me randomly one day to tell me that if I raise half the money he will match it. I was training Jenny at the time so I immediately thought of her. I was so determined to own her that I raised $1,250 in six months that dad had to match for a total of $2,500. I would bring bags of pennies even to pay for her. Tommi told me later her mom would take my bags of pennies to the bank, and with a smile and a laugh she would tell the startled bank teller that a child was buying a horse. I remember the day I bought her. My hand shook as I signed my name. I remember wondering if my name written in my cursive looked grown up enough to own a horse. As soon as she was legally mine I dashed out of Vickie's house, ran down the hill, and threw my arms around a startled three year old mare that was still learning about the love of a twelve year old girl.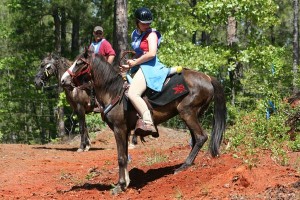 She and I have accomplished many titles together. Jenny is a Reserve National Champion and Regional Champion in NATRC with her scores always in the 90's. It is always funny when a 13.1hh Spanish Mustang passes a bunch of Thoroughbreds and Arabians and they cannot keep up after their riders have talked my little mustang down. Same thing has happened with Quarter Horses in pole bending; she has won me money in Dallas at play days. She has also won many first, especially in pleasure class, in Tejas shows, including Adult Champion with me. She is now even a Dam of Champions in HOA when her foal, Chimaira, won halter champion in her age group at the AIHR/HOA National Show. However, I think our greatest accomplishments are the times when she has touched others' lives.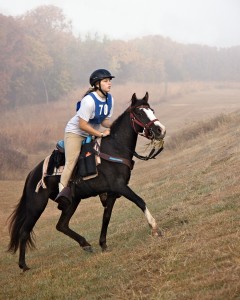 Jenny and I volunteered at Great Results Equine Assisted Therapy Center for two years. We daily helped mentally and physically handicapped students cope with their disabilities. Jenny is a very hyper horse that I normally would not let children ride but she changes for the handicapped. She adapts for each person. She seems to understand her job and takes it very seriously. Jenny demands to nuzzle each child when they mount up. If they are in a wheelchair she places her face in their lap. The two students I will never forget are Ben and Dylan. Ben is a little boy that says very little and has cerebral palsy and autism. His chances of walking like an average child were slim. After a month of having him ride Jenny I did not show up to the therapy center for two weeks due to school. When I came back I saw a wonderful sight. As I walked Jenny out of her stall Ben saw her and did not walk to her, but ran. His mother couldn't even keep up! He stopped a few feet from Jenny. She reached out and nuzzled his cheek while he smiled. Dylan was a little eight year old boy with autism too but his was very severe, non-verbal autism. Jenny would prance with Dylan to make him laugh. She loved that boy. When teaching the children to get the horse to move, we tell them to say go! and to tap the horse's mane. Though he had never spoken a word we had hope. One day he spoke his first word to my little horse. He told her to Go! Everyone nearby started crying tears of joy and I gave Jenny one of the most love-filled hugs I have ever given her. Unfortunately, Jenny has been fired from her job after two years. During my first two months of college I was working two jobs and just did not have the time to go to the center to volunteer. During that time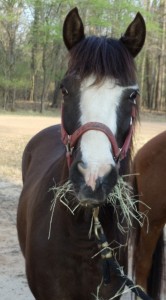 Jenny thought I had abandoned her. She went off her feed, and gradually became depressed and angry. Eventually no one could open her stall door without her charging them. I got the call to come get her. She was very angry at me and the world it seemed. I took her straight to the farm and rode her as fast as she wanted to go and for as long as she wanted to. After that she was her normal self.
I now have her living with me again. She is happy and content. I use her to teach riding lessons. Due to her size compared to me I do not compete her as much as I did before. I have thought of selling her but I do not think I ever will. We are, I guess you can say, kindred spirits. As an early teenager I was going down a dark path and she saved my life. Now we get to work together to help other people change their lives. Because of her I am getting a bachelors in Equine Studies and a Masters in Counseling so I can use horses to counsel abused children and at-risk youth. I hope that when I start my dream career she will be there with me; working together just like we have all these years.