In 1986 a beautiful colt was born and I was on my way to see him for the first time. I was trying hard to restrain my excitement on the trip to East Texas with my parents. They were ready to purchase an Original Indian Horse for me. I really did not think there could be another horse for me other than Apache, our AA colt who was previously lost in a tragic accident, but then I met Sunny. Sunny was nothing like Apache, they are two very different but both wonderful horses. Sunny's dam, Penny's Sundance and sire, the well known Choctaw Sundance, were bred by Leanna and Vickie. Born in March of 1986 just four days before I turned 14, Sunny started out as The Sun King. Unfortunately I had not yet discovered the Beatles and lacked appreciation for this name (don't worry this issue has since been remedied). I always dreamed of having a real horse named Sundance. I played with a buckskin Breyer horse incessantly as a youngster which I called Sundance, so his name became The Sundance Kid. Since both his parents bore the name Sundance, I felt it fit.
The moment I met Sunny it was clear we were meant to be, at least that is how I saw it. Of course being an immature teenage girl I expected the "meant to be" to come easy. I was dead set on training him myself, even though I had no experience with horse training. Sunny really seemed very easy to train as far as the basics went. The first time I climbed aboard Sunny he just twisted his head around and looked back at me amused. He never gave me a hard time about it. Winning his respect was the goal I had to earn. I quickly discovered Sunny was a fast learner and I was the one teaching him some bad habits. It was not uncommon for him to out smart me. Sunny taught me a great deal. I had to work for his respect, trust, and friendship. He challenged me, and I must admit there were a few moments when I thought maybe we were not meant to be. I'm happy to say today we are best buddies and he follows me around like a love sick puppy. The work needed to bind our relationship was well worth it.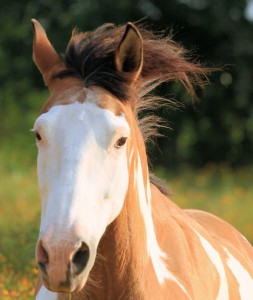 Initially Sunny's training went easy. We had lots of time to spend together. However, heading off to college really set us back as I was in San Marcos and he was in Dallas. So I decided to take him along my second year of college. I soon realized working and going to school full time left little to no time for Sunny, even though I had him close by. Boarding cost was a problem as well. I got into one of my "maybe this is not to be" moods and I felt he really needed a person who could spend time with him. He deserved lots of attention, which at the time I was unable to give. Fortunately, the president of AIHR, Nanci Falley lived close by. Nanci could help me find a good safe home for him, as we would have it no other way.
Sure enough Nanci brought Sunny and the Scott family together and kept him at her place just down the road in Lockhart which meant I could visit him! I was also fortunate to see their son Josh Scott show Sunny at one of the AIHR annual events. Sunny looked great. I was pleased with his good home, but he was missed. As Josh grew older he also had less time for Sunny and once again Sunny was leading an idle life. I enjoyed visiting him at Nanci's but my heart was aching to have him back, especially since I graduated and had time for him. Chris (my husband now) really encouraged me to ask for him back and had a place I could keep him. Nanci arranged for me to meet with Jesse and Ann Scott again and they generously offered him back to me for the same price he was originally sold. I was overjoyed, we were back together! We have enjoyed participating in several AIHR shows, pleasure trail riding, clinics, and just hanging out together. The Scott family visits with him at the shows and annual AIHR open house and are always welcome to come and see Sunny. Sunny has made a great AIHR model, he has represented the breed in the books 96 Horse Breeds of North America on page 38 and The Official Horse Breeds Standards Guide on page 17 and made an appearance in The American Indian Horse Registry documentary video.
Sunny is a striking overo dunn adobe paint with apron face, black mane and tail with auburn highlights, zebra striping on his front legs, three white stockings, a tear drop marking under his right eye, and up close you can see the outer edges of his eyes are a dark blue. As far as I'm concerned he is the most gorgeous horse ever. On top of his good looks he is a character and has taught me more about working with horses then anyone. He has an attitude that I love and respect. A smile on my face is always present when watching him throw his head and prance around like he owns the place. By the way he does own the place, and at age 24 he remains top horse in our herd hierarchy.