Timber Ghost was foaled in Sand Springs, OK to the famous old mare Little Corn, an older mare who I had loaned to a friend who was supposed to keep her for the foal she was carrying. Little did I know, he chose to abort the foal we had bred, sent her to Jerry and Gina Hilligoss's stallion Beetlejuice in OK, and then never returned to pick her up. I had no idea that the friend had done ANY of those things until Jerry called me to tell me that she had foaled and was so weak from foaling that she went down. I was shocked, appalled and furious when I heard how Little Corn, then 22 years old, had been treated by the person to whom I had entrusted her.
When the Hilligoss family realized that I didn't even know that Little Corn had been left with them, they set to work to save the little grullo foal and his dam. Jerry put the foal on his mare Chataqua (along with her own filly), and the dun mare happily raised both babies. Little Corn was kept in a sling for days until she regained her strength and I could pick her up. Because of all the work and time the Hilligoss family had put in to save Little Corn and her boy, I left the foal with Jerry and Gina (and Chataqua).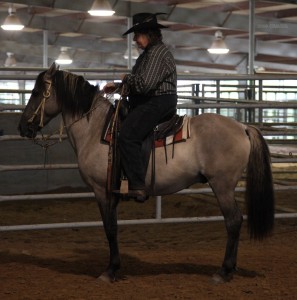 The baby was duly named "Timber Ghost" because Jerry wanted a ghost name to remind everyone that his sire was Beetlejuice. Jerry told me that the foal looked "just like a ghost flitting through the timber". He was sold to Ed Lumley where he stayed and sired his first foals. Then in 2009 Ed decided to get out of the horse business, so he returned the young stallion to Jerry who offered him to me. I headed for OK and bought him as soon as I laid eyes on him.
So Ghost had come full circle. Karma is such a wonderful thing. On paper I was his breeder as I was the owner of Little Corn, but until the day I picked up the grullo stallion, I had never laid eyes on him. But once I threw a leg over his back, I found his gaits to be as smooth as silk. And though he needed lots of training to be finished, he was athletic, willing, tough and fast. I had aspirations of gelding him and selling him when I bought him, but once I'd set on his back, the thought of selling him vanished. If ever there was an older lady's stallion, this Ghost was him. Watch for Timber Ghost and I in the show ring and on the trail. Some things were simply meant to be.