Getting to Know the Horses of the AIHR – Unwritten, aka Rhett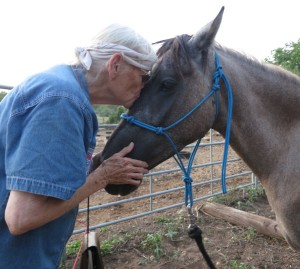 If anyone had asked me in the Spring of 2010, what would I wish for if I had three wishes, I would have answered, "World peace, an end to hunger, a decent supply of hay for the year or cheaper feed prices.  I would not have said, "another horse.". I had horses, all of whom I cherished and they were enough.  I also had donkeys, cats, dogs, chickens, geese, ducks, a pot bellied pig and a peacock, many of whom were rescues.  I definitely did not need nor was I looking for another horse.  At age 71 I was slowing down as far as taking in horses went.  (The term 'never say never" comes to mind here.)
The AIHR hosts an annual Open House in April each year and in 2010 I was expecting my friends, Vickie Ives and Laura Christensen who were coming for the celebration from east Texas and bringing with them two horses, a 2 year old colt, Jack Sparrow, and Laura's gelding, Heyoka. Jack Sparrow had been sold to Scott Nelis who was coming to the Open House to pick his colt up.  Vik and Laura arrived around 10 pm on Friday evening with horses in tow.  We unloaded them and put them into adjoining pens.  After that we went to the house for a visit before going to bed.
Rhett's first night home at Rancho San Francisco. The next morning I got up early and went down to the barn to feed my brood.  There I was met by a very agitated Jack Sparrow who was nickering and pawing at the wall of the barn.  He was intent on getting my attention.  At first I thought he was just hungry, but it was more than that.  He demanded my attention and I could not, would not respond as he was promised to someone else.  So I ignored him and went about my morning chores.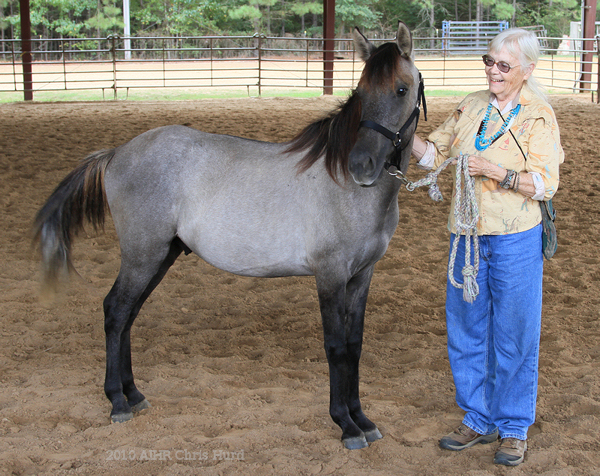 He persisted, banging on the wall and nickering loudly for nearly an hour.  At that time Vik came down to the barn to feed the two horses, and I went over to greet her when she exclaimed, This is not Jack Sparrow! This is Unwritten!  How could this have happened?  True, this colt and Jack Sparrow were similar in age, size and color, but as long time and experienced horse people neither Vik nor her trainer Jerry could understand the "mistake.". When things quieted down after more laughter and exclamations and a call to Scott to tell him not to bring his trailer – they would meet up at a later date for Jack Sparrow's delivery, I knew I had to talk to Vik.
By this time I had decided that Unwritten had engineered this whole event.  He had gotten himself to exactly where he knew he was destined to be, and that was with me.  No doubt about it, and I had to agree with him so I sat down with Vik and asked her if he could be mine.  Thankfully she was agreeable, and so Unwritten, call name Rhett, found his forever home.  He went back to east Texas for a time so he could have more training and be gelded.  I showed him at the 2010 AIHR National Show and at the 2011 National he really outdid himself by winning his halter class and was Reserve Champion O Indian Horse at Halter.  The amazing Rowdy Yates was Grand Champion O at Halter, so we were in very good company!
I am pleased to say that Rhett is now home with me on my ranch near Lockhart (south of Austin in central Texas) and thriving.  He is one of the sweetest horses I have ever been privileged to have in my life and I am beyond grateful to be his friend and partner.
Here is a poem that he and I wrote together:
He arrived by mistake(or so they said)
He was the wrong colt( or so they said)
But the expressive brown eyes used different words.
No mistake am I(so he said to me)
No mistake the trip across Texas(so he said to me)
I am yours – forever(so he said to me)
**Story written by Rhett's mom, Nanci Falley**