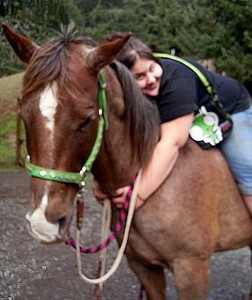 Getting to Know the Horses of the AIHR – Iced Bonanza, "Keerah"
About three years ago, I was on the hunt for a horse. We searched the paper and craigslist for a place to board. Hooray. A place in the paper. We set up a day to go look at the property, and it was gorgeous. Spacious, and had some awesome trails. We came to an old cow pasture that he used to put his cattle in. I didn't notice anything, as we kept moving. He showed us a wash rack/drinking area, and moved on. We made it back to his barn, and he asked Kandie, my brothers fiancée, and I if we had known anyone missing a red roan mare. We looked at each other confused and shook our heads. We made our way back down to the old cattle pasture and came to find a gelding that was VERY thin, and a little mare. We had to go through a gate into the pasture with the gelding, slipping and sliding in the mud. Luckily the gelding was just a gentle giant. I nicknamed him Big Fella. He even seemed to come to it when I called him. I then came to another gate to get to the mares pasture. After closing it, nearly getting stuck in the mud in the process, I walk up to her slowly. Her head was always low, and never set high. I reached out to her and touched her face. Kandie looked her over, too. Picking up all four of her feet. I rubbed on her ears and face, and my dad checked her mouth, trying to distinguish age. We guessed she was about 10.
She had been on his property for a long while. A few months with no apparent attention to her needs. We went back to the man's shop and called animal control and asked how many days an animal has to be unclaimed on a property before it's considered abandoned. Since she was considered abandoned, he asked me if I would like to have her. She would be free. He only wanted her off of his 'property'. He wrote a Bill of Sale and she was mine all mine.
After about a week, she was moved to a better pasture, and soon acquired a new friend, Patch. I was asked by my new BO if I would mind bottle feeding a set of twin calves. Well, duh! My new routine was to go up and see the horses in the morning, then later in the evening feed the twins and feed the horses again thereafter.
Everything was going wonderful for a few weeks. We even got asked if we wanted to switch pastures to a much bigger one. Sure! Only, I had to share with a girl who never paid her rent, had dying horses, and was just overall no good. I told my BO I didn't want to if it meant staying with her, and I was informed she was being evicted.
Now, this was the woman who had supposedly owned Keerah, but she kept telling the BO she didn't know who this mare was. I called her at work and told her, 'Sorry. I didn't want to share the pasture.' She seemed upset, but my horses were not going to be put into danger because of her. A couple days passed and we waited for the O.K. to move into the new pasture.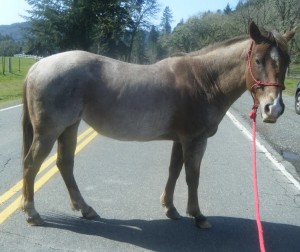 The day was like a normal morning. Went up to see my horse, newly named, Keerah. Later that day I went up and fed the twins as normal, and was happy to go see my girl, only she wasn't in the pasture when I got there. I got out and slammed the door to the car and struggled to get the gate open. After swinging the gate open, and locking it behind me. I ran along the fence line, screaming her name. There was no downed fence and no trace of her jumping it. I dropped to my knees at the water trough and just began to cry. My dad came running to my side and was at a loss. I was determined to know what happened to my horse. I ran to the pasture entrance. Ah hah. Tire marks. Hoof prints. She was stolen.
I posted a Craigslist ad about a stolen horse in the Curry County/Del Norte area. I got a lot of replies wishing me luck, but nothing on her being found. I added a phone number. A week and nothing. I was more depressed than ever. To try and help keep myself going, I searched for her in other places.
I got a phone call a couple days later. Some girl saying she trailered the horse to her owner after a sale didn't go through with her horse. I was amazed. I said, 'That can't be, as I'M the horses owner.' The poor girl seemed so confused. I asked for the phone number to Keerah's 'owner' and gave her a call. Seemed she was expecting my phone call.
She told me she had been selling Keerah to that woman on my BOs property. She was supposed to be trading 2 horses and 1,000 dollars for her. Come to find out, the two horses she was going to be trading weren't even hers. And Keerah's previous owner didn't see a lick of money. She waited 4 months, with communication back and forth between them in e-mails, the lady buying Keerah stating she was having a wonderful time riding her in the snow on some trails. (First off, what snow? Second, Why wait 4 MONTHS of no payment from this lady). The lady buying Keerah called her up (I'm guessing the day I told her I didn't want to share the pasture) and said she wouldn't be able to care for Keerah anymore and to come get her.
So, there's the story there, supposedly.
She told me I could have her for 2,000 dollars. I nearly dropped the phone. Two-thousand dollars? I just gave the phone to my mom. Come to find out, My mom knew this lady when she worked for the Veteranarian. Very crazy lady. She also happens to be the one who shot Lilly for kicking her, after buying her, knowing she had a kicking problem. Lilly was a little mare my dad was going to rescue. Always came in with her 'sick animals', when nothing was wrong with them. I cried for a long while, and continued to search for another horse, knowing I couldn't afford a 2,000 dollar horse.
Later that week, I get a phone call from the same lady, and she informs me that I need to buy her. She's become depressed, won't eat or drink, and doesn't even enjoy the company of her gelding boyfriend. She is worried for the sake of Keerah, and says she'll drop the price in half to 1,000. I hand the phone to my dad, and we actually scheduled a pick-up date. I'm getting my baby back.
My dad and I got to the Rite-aid parking lot and she's there waiting for us. My window is down and I can hear Keerah scream at the sound of the truck. She begins to nicker and whinny. I run up to the trailer and just begin to cry. She tells me she hasn't seen her this happy since before she left. She was munching on some hay and I kept hand feeding it to her. She'd push the hay at me, and I'd give it to her. My dad made the transaction and signed the paperwork, as I was not of legal age then. I signed under his name as legal owner, and my dad signed as the legal guardian.
Finally, she was officially mine. I got her back, and her roaning had just covered her whole body. She had greyed out a LOT in the little time she left, but came back with a few more fears.
This lady LAUGHED as she told me she whipped her all over the field to keep her in her designated eating area. (What the heck is that.. Seriously?!?) She told me she needed to use a twitch on her to worm her, as she'd rear. She told me to take her nostril and twist it tightly and worm her. I looked at her in shock, and was so happy she was back in my possession..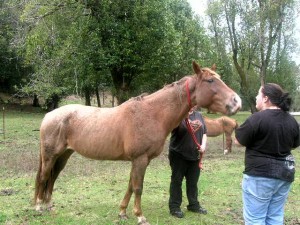 Thinking back on it now, I should have taken her to court. It wasn't my issue, and she had been abandoned on someone's property, and she sat there for 4 months. But, she's mine, and I lock up EVERYTHING now. No one is taking her from me. Ever. Ever. Again.
I tried to shorten our story a bit, as it was a heck of a long adventure, but she's mine, and that's all I care about. I love her so much!!!
~ Story written by Keerah's mom, Terrah Yoacham