Shazam War Horse And Protector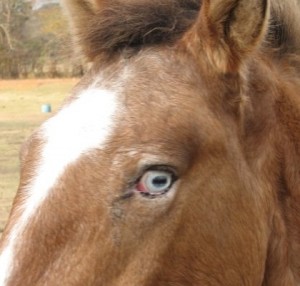 Oh my goodness where to start! I guess it would begin as a dream. My dream sent to me by the laughing spirit of Beau, my 4 year old colt who had recently passed from a hard to diagnose choke. The dream? It was of a blue sclera eye surrounded by freckles.
Soon after that, a friend, Gretchen Patterson, pointed out a horse at Karma Farms in Marshall, TX as needing a person. He was a big gangly 8 year old primitive looking gelding that had just been green broke by Doug Norush. When the big dun turned to look at me, his eyes followed my every step around the yard. It was then I noticed his left eye was ice blue surrounded by freckles! I had to look again because the other eye was a soft brown. I had to have him. I was told he was too much of a horse for me (true enough). But Beau had spoken.
He and I then spent time, many ground hours together in the yard. In a very short time, I could go out to the pasture, and call him. He would look up (even while eating) neigh hello, and canter over to me to be haltered with me having just a treat in my pocket. Somehow he knew I had an advanced case of arthritis in my knees and could not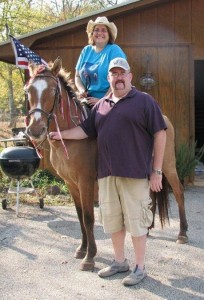 walk far to get him without pain. I took lessons on him, in the closed pasture at Karma Farms and when he/we trotted his easy working trot I was in heaven. The problem with Zam and me though, a slow trot was not his forte' and he and I both knew it. I came off of him once – hard – the first time we went out into the big pasture. It was a shock because before he slipped and I panicked, he and I had been strutting our stuff with him showing the other horses he was carrying his Mom, and me, I was just happy.
Shortly after that I had to have a series of unrelated surgeries. After each one visitors and regulars at Karma Farms would see the two of us sharing time on the lawn in front of my house. Me in a chair sitting and reading, and he quietly eating grass next to me, checking to make sure I was okay every once in a while.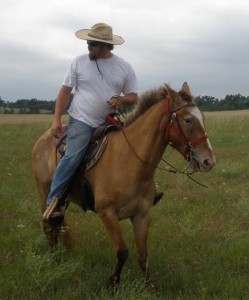 Shazam was growing into quite a horse. A very good friend Curtis George rode him in NATRC and at the Tejas AIHR shows for me 2009. I have some gorgeous pictures of the two of them from both venues. It was Zam's first try, and he needed some work. Curtis was just happy to be on a horse that liked to move without a whole lot of encouragement. After that Curtis had his own horses to work on, but I was happy to have seen my baby in action with someone. After that, Zam became a pasture ornament and weekend companion to me. His favorite job was watching the new babies for their mommas in spring.
In late 2009 a man named Jerry Hilligoss came to work at Karma Farms. Vik Ives said he looked at all the horses on the place and asked about Zam. She told him, "Not for sale Jerry. He belongs to Mrs. Leopold." Then the fall days quickly turned into the next June, and after one knee surgery, I had Zam up and was grooming and fussing over him. The tall lean Oklahoman approached me and asked if he could ride him. I believe this was the beginning of the development of an incredible friendship.
Jerry started riding Zam at the Tejas July AIHR show. They were a photogenic pair together, and an entertaining one. Both shared the need for speed. Jerry always said they were both adrenaline junkies. Unlike Zam the Protector with me, this was Shazam the War Horse in action. In September of 2010 they were paired up for the first time at the AIHR National Show. Jerry had been conditioning Zam for NATRC and possibly AERC, so he was a "trail monster." Muscled like no other horse in the ring, Jerry and Zam were a sight to see. This incredible horse shined in halter. My once gangly big headed baby won overall "O" Gelding and Overall "O". That boy in motion could turn heads! The speed events continued the Jerry and Zam show. They went from "eating gate" in one event to the fastest times imaginable in another. We ended the show with Overall Reserve Champion Senior Adult Rider and the Kiamichi Wildfire award for High Point Gelding.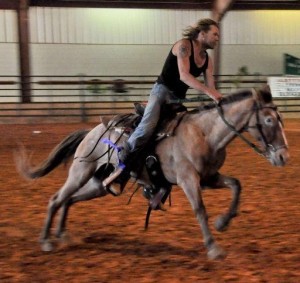 They started on NATRC that fall as well together. Zam got a reputation for the dun Appaloosa butt out in the front in the open events. Jim Edmondson at Optical Harmonic's pictures captured their friendship developing over the season. Their placings were haphazard – but they had fun and Zam was happy.After the John Zinc NATRC ride up near Jerry's family in Sand Springs, OK last summer, I was surprised to notice that with their first place there, and the points totals they had accumulated, a chance for a National Championship for 2011 in the Open Category through NATRC was within reach. The race was on.
We did take some time out for the 2011 Nationals, where a more sophisticated and finished Zam still knew how to entertain. In the trail class, apparently the white bridge Jerry asked him to cross was seen by our horse as a bad and threatening monster. Jerry said Zam came to the bridge, sniffed it, reared up on his hind legs and came crashing down on top of it. After this, he blithely walked across it. No more bad guy white bridge – everyone could now pass safely! This performance leaves an indelible picture of his true nature to anyone willing to see it – War horse for the strong/protector of the weak. Rick Sims had it right Zam was a real working horse. Jerry and Zam won high point total for the Southeast Regional Show and the AIHR/National Show.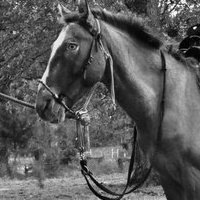 Our Championship run came to an end in Pole Canyon ride in the beginning of October when Zam slipped and came up lame and had to pull the second day. It would have to be in 2012 and Jerry and I started immediately to plan. I have great memories of the 2011 challenge time though. In Topeka, KS during Riding for the Rescue in Region 6 I heard one woman exclaim "I recognize that skinny mustang butt! That horse WALKS at minimum 4-1/2 miles per hour!" They called him Jerry's "little work truck" there. Another was at Pole Canyon NATRC in West Texas where he got an 8/1 P&R. Larry Gould who took his respiration said later, "it was almost a zero, but I caught that one breath at the end."
One clear memory I have is set in the early morning light at Pole Canyon, an incredibly beautiful and ethereal place. This is a picture in my head of Zam and Jerry, both with heads bowed. Zam is in his bright red blanket and Jerry in his Mexican blanket poncho, watching from above the trail as the horses and riders went out on that second morning.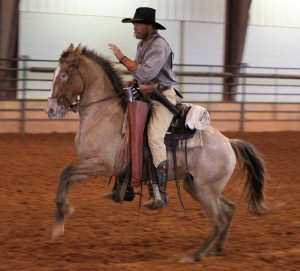 Well all dreams apparently must come to an end. Zam was out on a conditioning ride in Oklahoma on Sunday October 16, when he slipped, lost his rider and ran for his "heart" home, Jerry's place on the Osage Indian Reservation. 100 yards from safety he got hit by a pickup truck and suffered severe spinal injuries. Jerry was in contact with me at my home in Texas up until 12 AM that Sunday night when he asked if he could put him to sleep himself. Jerry always knew what was best for Zam and I told him that, and to take care of our horse. So Zam went to his final sleep with his head in the lap of his best and true friend Jerry.
As with all dreams only some of it is remembered . I hope I remember all the good things. And yes, my heart is sad – but I know he is now running in the skies with no one telling him when to stop, and maybe pausing every once in a while, with his head bowed looking down on me, and Jerry and everyone that admired and loved him, watching us trotting out for our next ride.
By: Patricia Leopold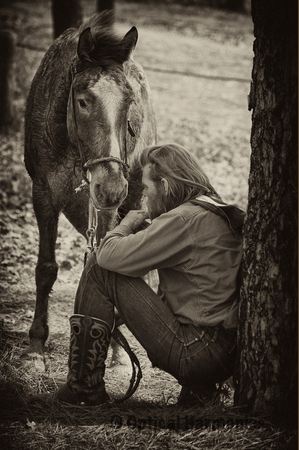 Shazam
As we rode the miles together the two of us made one.
But every mile we made , made both our lives more fun.
I needed him, he needed me – a perfect balance few could see.
No matter where we had to go he would never dream of saying no.
Another horse will never be the special friend he was to me
This horse they said no man could stand I trusted more than any man.
Many horses await me on the other side but he's the one I'll catch and ride
Of all the memories we created in my heart they are all gold plated
Ropen ' riden' huntin' treasure – no way he would quit you ever.
If you could rope it – he could pull it and pass the others like a bullet
Now he's crossed over to the other side we'll meet there & true skies we'll ride
Don't know what I'll do til then – I think I'll turn my saddle in.
By: Jerry Hilligoss