Thunder's Black Tie Affair "Ty" by Ricki Sims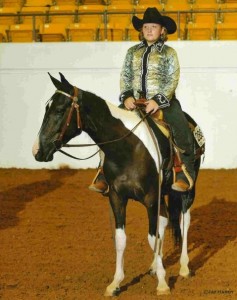 I haven't always had horses, but I have always longed for them ever since I was a little girl. I hungered for the great luxury of owning my own horse. I was so jealous inside of those children that were so privileged as to own these wonderful giants. I still remember when my father and I would go on trips to drop off cattle for his job at rodeos and ranches all across the state of Texas and sometimes even farther than that. Almost every time we would pass a horse or some horses in the big truck my dad would get my attention, just to point out of the window and show me and no matter where the horses were, whether in a wide open pasture grazing or locked in a paddock. I always asked "When can I ride it", those famous words that almost every six year old girl utters and yet the answers were always "No" or "Not now".
This all changed one day when we went to a rodeo to drop off some cattle and I met a young barrel racer girl who let me ride her old horse. I still remember it like it was yesterday. It was the biggest and most beautiful creature I had ever laid eyes on. It was an old and very, very lazy chestnut quarter horse gelding. As soon as my dad and the girl hoisted me up on top of that powerful beast, I felt great freedom. I had a feeling so strong that it could drown the whole ocean. THIS was the thing I loved doing. As the girl led me around atop that horse, I was closing my eyes, letting go and putting my arms out like I was flying. I had not a single ounce of fear seeping through my body and was finally living my lifelong dream. As the girl watched how excited I was atop her old gelding, she couldn't help but laugh. I now know why. It's because sometimes people who have grown up with horses all of their life don't realize how special it is to people who haven't and they couldn't even begin to count the number of little kids all around the world that envy them so much. Years later, however, my dad got a new job and it's sad to say but I kind of just grew out of horses. I thought of it as an impossible dream that everybody has in their childhood.
Well about two years later we moved to East Texas and this is where my fallen dream comes true. Of course I was very excited when I heard that we had gotten a two year old filly, but something inside of me had changed since that day with the old chestnut gelding. Instead of feeling confidence, I felt fear and I didn't even know why. I hated that I was too scared to even touch the horse, so I prayed to God every night and one day I woke up and finally no longer feared the animal. I was in 4-H and was learning everything there was to know about horses, yet I only lacked the experience.
A few months later we got a new older mare named Shadow. She was a black Missouri Fox Trotter and she taught me how to ride. I kept on growing in the knowledge of horses, but this mare had foundered so I never got anything above a trot on her. Meanwhile my family kept on getting new horses and selling old horses trying to find the right breed and herd for us. Soon I asked my parents If I could save my own money and buy my own horse. They laughed and said "Sure. If you pay for it you can have your very own horse". I don't think they believed that I would.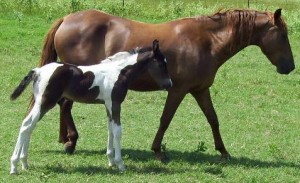 Well I did it! A man by the name of Bobby Weaver, the man who had originally Siouxsie, had three new foals. He sent pictures of each one; there was a blue roan, a strawberry roan, and a black and white paint. Well I wanted the black and white paint colt. We told him and I waited for him to be weaned. Then all of the sudden I lost contact with this man. So being the impatient little girl that I was, I gave up on that colt and decided on a mare from a different ranch. This happened to be one of the worst decisions I had ever made. This mare was ten years old and had very little experience and so did I. She also was a fireball and loved to buck my dad off! So right there I lost ALL of my confidence with horses.
I guess it was fate, because not too long after that my mom and Bobby Weaver started talking again and we ended up buying that little paint colt after all. My mom saw that I was scared to be on horses, so she urged me to work with Ty for her since I didn't seem to be afraid of him. That is when I learned for some reason I wasn't scared to work them on the ground no matter how rank they were, so she decided to geld this colt and let me show him and train him for her. I didn't know it at the time, but this colt named Thunder's Black Tie Affair (Ty) was really growing on me.
I worked with this colt every day and every time I had a chance. I got him bomb proof and he was a really sound colt. Well at first I never planned on taking him to the District horse show for 4-H but my mom really pushed me to and in the end I did. We competed in the only two events we could, which were the longe-line and halter class futurities. I was mighty surprised when I took first place in longe-line and second in halter, so with that I decided to go to State since I qualified. He did wonderful in every warm up we had, but as every horse person knows, horses are unpredictable and well, he froze up in the arena when it was our time to show. Although we didn't place at State, I knew he could do it and that's what mattered, that and I had trained him all on my own.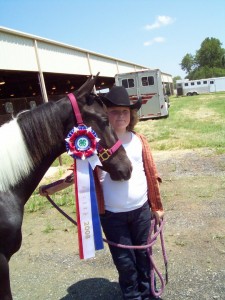 The next year rolled around faster than a bowling ball going down a steep hill and now it was time to break Ty. Well here was my weakness and I was still scared to ride horses, so I was just going to sit this year out. Well with all of the pushing my parents did in trying to get me to break him it never worked until my mom offered me Fifty Dollars to train him and show him for her at the District Show. (I have a sneaky mom.) I finally got on him and with my luck he spooked and ran and I found the dirt. However, no one was hurt and for some reason I got up and said I would ride him in the district show, but there's no way I was doing the state show. We did extensive training since we got such a late start. Three one hour sessions a day, Every day and we got so good that we were tuff competition. I fell in love with Ty for helping me and I don't think he even knows how much he helped me still to this day. Anyway, we got to the District 5 horse show and he had tuff competition and it was obvious that I was the only kid to train their own horse, but I didn't let that get me down. I went into the arena and did the best I could and took second place! I was so very excited that I told my mom to forget what I had said before about not wanting to go to state and a month later we were on our way to the state competition once again.
This was a much bigger competition with lots of horses and competitors, but I just went for fun and experience. I put forth my best in the ring and didn't expect to be what the judge wanted, but knew that Ty was what I wanted. My mom had been telling me that even if I never placed, I had already won because I wasn't scared anymore, but deep down I wanted to win. So you can imagine the big smile on my face as I rode out of the ring with my purple ribbon for seventh place overall. After all of this, walking back to the stall, I jokingly said to my mom "Man I wish he was all mine" and to my surprise she smiled and said "Well I've been waiting for you to admit it, and he's always been yours, honey". I was astonished and leaped for joy.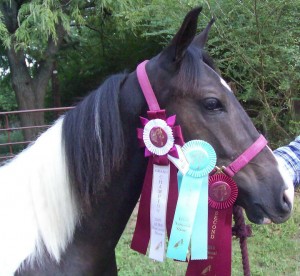 He is still proving himself to me every time we show. We just got back from the AIHR National Show and we won Reserve National Champions. One of the good things about Ty is he never lets it get to his head that he is a champion. I can still use him to let little kids ride and even the Special Olympics kids can ride Ty. I really like to let people that don't have horses ride, because I still remember my ride on that girls gelding that day and Ty loves it, too.
He is a really great horse and still to this day I don't think anybody quite understands Ty like me and I don't think anybody understands me quite like Ty. He continues to prove his skills in every show we go to and even on his bad days we can work well together. I love him and he has given me something that no other horse has and with that I'm no longer afraid to hop on a horse that is acting up or just to see what it knows. Thank You Ty! I love you and I'm proud to have you in my life!