Events
35th Annual American Indian Horse Registry and Horse of Americas National Show – Sept. 23rd, 24th, & 25th, 2016
The next National Show will be held on September 23rd, 24th, and 25th, 2016 at the Marshall City Arena, 3310 Popular Street, Marshall, TX 75671. This show is one of the very few in the country that specifically honors the horses descended from the original Spanish stock brought over to the New World in the 15th century, and their hybrids and descendants.  These horses are true American Originals.  The National Show was created in order to show these horses in an arena setting as well as on the trail where they are most often seen.
Here is the downloadable and printable entry form (including information on fees, rules, and the show schedule)  for the up coming 2016 Annual AIHR and HOA National Show held the 23rd, 24th and 25th of September 2016. We hope to see you there!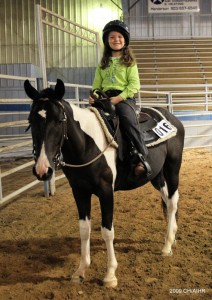 Fri. Sep. 23rd, 6:30pm — Non-Point Classes:
· YOUTH INDIAN HORSEMANSHIP (to age 12)
· GAITED  PLEASURE (Note: Horse must compete in this class to be eligible for Show Overall Gaited Horse Award)
· TRAIL OF TEARS (Bareback Pleasure, ages 13 & over only — additional $5.00 entry fee. Class includes walk, trot, lope & hand gallop. This is a Jackpot Class. Winner receives 1⁄2 of the entry fee and remaining jackpot goes to the LIDO FUND).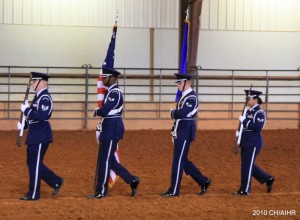 Saturday Sept. 24th:
· OPENING CEREMONY (Apx. Start Time: 10:00 a.m. Following the Opening Ceremonies: Texas
Spirit Riders Drill Team; Post the colors & National Anthem; Grand Entry; Opening Prayer & Blessing;
Presentation of AIHR Special Awards)
· COSTUME CLASSES (Frontier & Native American)
· HALTER & COLOR CLASSES (O, AA, A, M & P)
· PLEASURE CLASSES (green, papoose, youth, junior, adult, senior)
Sunday Sept, 25th:
· TRAIL CLASSES (papoose, youth, junior, adult, senior)
· TIMED SPEED EVENTS (papoose, youth, junior, adult, senior)
· PLEASE STAY for end of show awards presentation of High Point & Division Champion Awards
High Points in Exhibitor Age Groups and AIHR & HOA Registry Divisions. Additional High Point Awards at the end of the show. Awards will be given for oldest performing horse and high point BLM among others.
AIHR/HOA National Horse show photos: